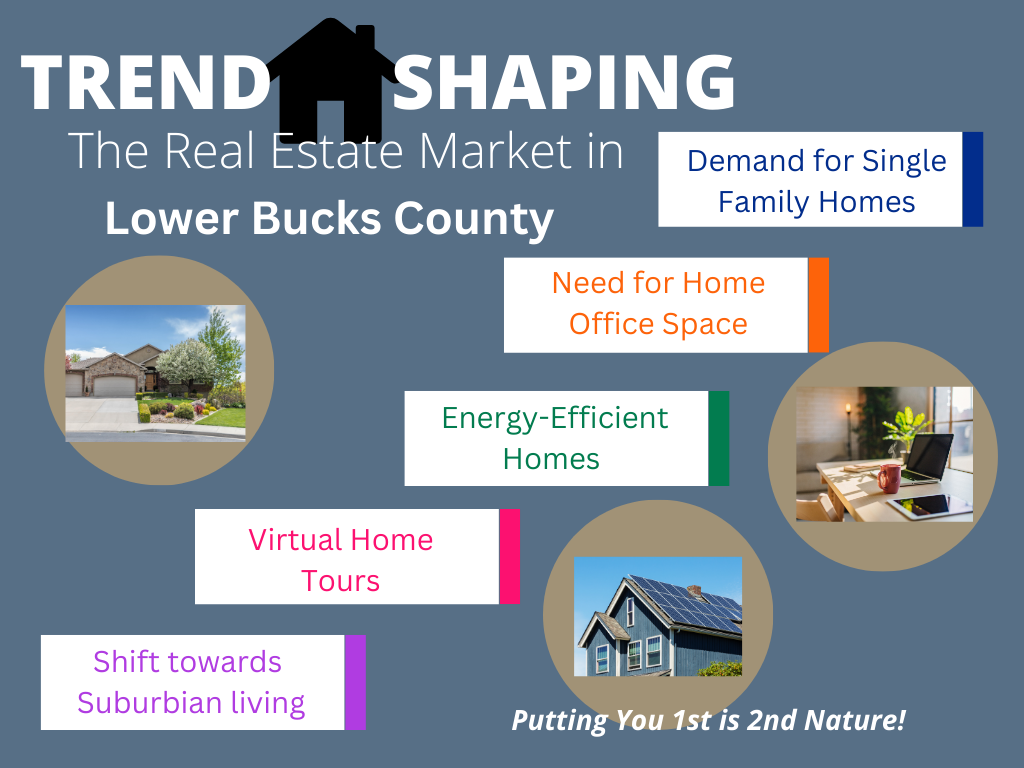 Five trends shaping the Lower Bucks County real estate market:
An Increased Demand for Single-Family Homes: As a result of the pandemic, many people are looking for more space and privacy. Leading to a surge in demand for single-family homes in Lower Bucks County. This has caused prices to rise, making it a seller's market.
Emphasis on Home Office Spaces: More people working from home. There is an increased demand for homes that have a dedicated workspace or home office. Properties with home office spaces are becoming more popular and can command a premium price.
Interest in Sustainable and Energy-Efficient Homes: As people become more environmentally conscious,.  There is a growing interest in homes that are sustainable and energy-efficient. Properties that have energy-efficient features such as solar panels or geothermal heating and cooling systems can be more attractive to buyers.
Rise of Virtual Home Tours: Since the pandemic, many buyers are opting for virtual home tours before in-person showings. This trend has continue even as the pandemic subsides. It provides a convenient way for buyers to view properties from the comfort of their own homes.
Shift Toward Suburban Living: There is a growing trend of people moving out of cities. Into suburban areas. Lower Bucks County, with its proximity to Philadelphia and its suburban feel, is a perfect option for those looking for more space and a quieter lifestyle. Leading to an increase in demand for homes in the area.